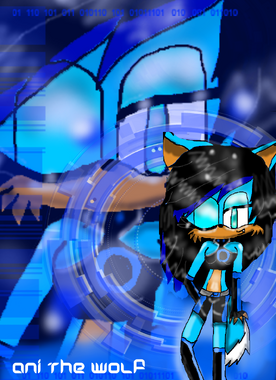 age:17
nicknames:anakee( nickname by scourge)
species: wolf
gene blood body stats: 100% wolfs blood and body
60% hedgehog.
sex: female
sex type: straight
parent /silblings: riku the hedgehog(father), crystaline the wolf(mother), snow the wolf(sister), midnight the hedgewolf(brother).
alther ego: akatsuki the wolf( evil ani or anti ani)
hair fur color: light blue(fur) light choco color(skin), long spikey blue highlights and black base (hair)
power: ice, psychic, energy,aero,futuristic,and time
friends: veshue the vulplix, mari the ringtail, shadow the hedgehog, scourge the hedgehog, amy rose,blaze the cat,sonia the hedgehog, manic the hedgehog,sally acron,and more.....
enemys:dr.eggman,Fionna fox, rosy rascal, dr.ryo,and akatsuki the wolf,
History

Community content is available under
CC-BY-SA
unless otherwise noted.