"there´s no luck without bad luck!"-hana

also on http://laura2esmee.deviantart.com/
background story
(if you want a sad story then your in bad luck.)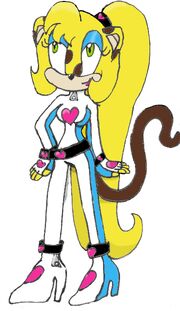 she`s a quite normal girl actally.
she went to a boarding school for girls she realy hates that school,
so she runs away making her mom realy angry.
that mostly the reason why she can run fast.
Abilities
she´s verry good at making people do what she wants (like paying the bills for her clothes)
not the smartest around.... (you can call her a dom blond if you want just dont let her hear you...)
she`s also realy fast (mostly because she realy licht she´s on a diet weiredly)
she can out run if she wants.
Personality
very cheerful, dus not get mad very easy
falls in love realy easy (she also vals in love with sonic) and dus not like competion.
also likes to shop (her running suit is the only thing that she weares more than ones)
Community content is available under
CC-BY-SA
unless otherwise noted.