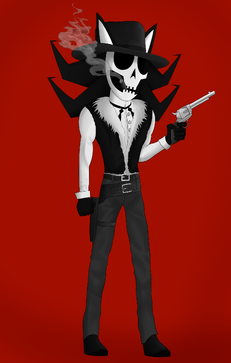 Appearance
Jack is a tall, stocky, cigar-smoking individual. His distinguishing features are his face and heavy build, which designates him as a somewhat imposing figure.
Age: 25
Height: 4' 7''
Weight: 125 lbs
Species: Loony
Biography
Although not much is known about Jack's past, he was born around sometime during the year 1880.
Near the end of the 18th century, Jack took the profession as an efficient bounty hunter. Where his role was to seize fugitives and criminals for a monetary reward, through any means necessary.
Summary
Jack is a silent, free-spirited individual. His distinction is that he succeeds in being ruthless without seeming inhuman, psychotic or insane. He is also fascinating while at the same time tough-minded, a being too skilled to repute him as an unstoppable survivor. He's an amusing, dangerous, gunslinger whose only interest is what's in it for him.
Abilities
Jack posses a very unique set of skills. Most notably is his efficiency with guns and explosives, he's fantastically swift on the draw which allows him to easily gun down multiple foes within the blink of an eye.
Jack is an extremely well-rounded fighter, he's a master at boxing, judo and wrestling. He possess seemingly infinite amount of stamina while opposing a masterful amount of technique, which leads him to be a force to be reckoned with by any foe.
In terms of power, Jack hold's superior upper body strength. He also possess high stealth.
In terms of defense, Jack seems to hold many resistances. He's completely immune to sicknesses as well with diseases, demonic energy, darkness, fire, poison and venom. Being a Loony he isn't made up of any organic structure at all, nearly an entity.
Community content is available under
CC-BY-SA
unless otherwise noted.