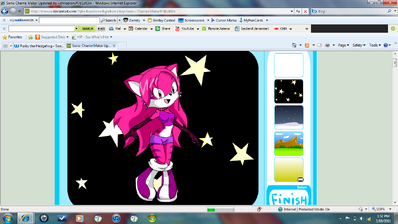 "Follow your dreams" -Kira
Name: Kira The Tiger
Age:16
Gender: Female
Specias: Tiger
Fur Colours:Hot Pink
Fur Mark Colours: Purple
Eye Colour: Hot Pink
Theme Song: What Hurts The Most By: Cascada
Status: Crush but it will never happen because it's Moley's O.C. Orion TH...
Fav. Colour: Aqua-Marine
Team: Crypton
Outfit: Fish net gloves, Red spiked chocker, Purple and white boots, Purple Shirt + Shorts.
Family: ...you dont want to know...
Info: She is the last of her whole entire family when she was kidnapped and the G.U.N. soilders k!lled her whole family...
Voice Sample: MEIKO from vocaloid software: #1
Likes: Maria R. TH, Amy Rose, Cream, Mya, Blaze, Cazelyn, friends, family[Gone...], cute boys, and stuff.
Dislikes: Shadow[Her kidnapper], Bullies, Death, The EMO, Eve TH, meanies, and bad stuff!
Backround Story: When she was born there was a war and she was kidnapped bye Shadow who had no choice. Then she got a job and found a life like anyone else.
NO STEALS OR EDITS ON THIS PAGE!
Community content is available under
CC-BY-SA
unless otherwise noted.