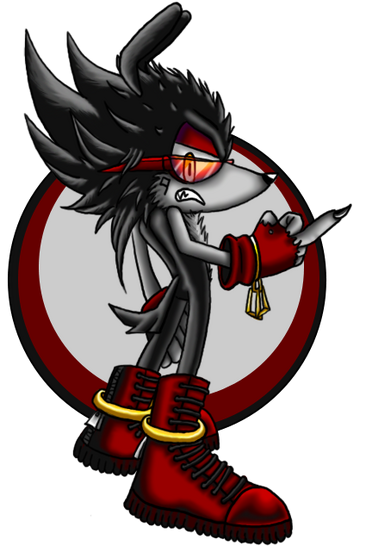 ...
Nega Xero the Negative Chaos Emerald is a fan character by http://sinisterabbit.deviantart.com/
Basic Information
Name: Negitive Zero
Alias: Nega Xero, Nega, Xero, Nega Chaos
Age: Ageless (Appears as 18)
Spieces: Unknown Dog
Skin Colors: Black, Grey, Dark Red
Eye Color: Rouge Red
Type: Speed, Flight, Power
Marital Status: Single
Residence: The Moon
Occupation: None
Mother: N/A
Father: Black Doom (sorta)
Siblings: N/A
Likes: Destorying, Killing, Having Power, Poison, Evil, Leather, Sunglasses, Power Rings, Negative Energy
Dislikes: Good, G.U.N., Humans, Being Powerless, Good Energy
Background Story
Soon
Personality
Soon
Appearences
Sonic: Chaos Creators
Soon
Abilities
Soon
Interactions with Characters
Soon
Soon
Soon
Soon
Shadow The Hedgehog
Soon
Sonic The Hedgehog
Soon
Tails "Miles" Prower
Soon
Knuckles
Soon
Facts
Soon
Forms
Chaos Emerald Form:

Nega Xero Only goe's in Negitive Chao emerald form when he get's put into a deep sleep. The Only one who can put Nega xero in this from is Amethyst and Shadow. While in this form his negitive energy can be harnest for mass destruction and pure evil purposes if left in the wrong hands. It's power is as strong as all seven chaos emeralds put together.
.
.
.
Note: This Emerald Is from Sonic Battle apparently recolored. Emerald (c) Sonic team/Sega
Negative Super Form:
Soon
Theme Songs
Soon
Gallery
Soon
Community content is available under
CC-BY-SA
unless otherwise noted.