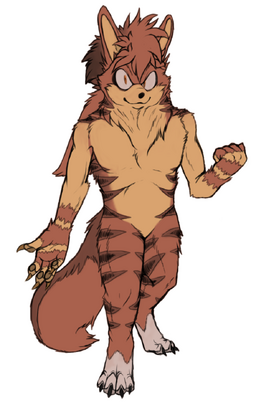 Sisco Brandt Coollet (シスコブラントコレット Shisuko Buranto Koretto), Is the protagonist of The Wild Challenger, The Cosmic Turbine andSisco: World Of Danger. He is the youngest son of the imfamous Samuel Coollet and the younger brother of Douglas Coollet. The uncle of Ray Coollet and the father of Mickey Coollet who carries the flame of The Wild Challenger. Sisco is a Large Dire Wolf/African Brandt Hedgehog lycanthrophe. He loves going on adventures and fights when it's nessesary. He acknowledges the fact that only he is chosen to be given a curse that doesn't lift unless his life has ended. His fur colors are Amber Red, Golden Brown, & Maroon Red. He is 19 years old in the time being, but since his birthday is three years earlier then Sonic's, his age is chronologiclly 23 years old. Sisco stands at 195.58 centimeters (6 ft 77 in), weighs at (470 Ibs). He has the ability to mega jump and perform techniques that are simular to taekwondo and can also use his tail, fangs, and claws as a weapon against enemies. But the strangest thing is that since he's part hedgehog, he should be able curl up into a ball but, due to having spinal failure as a newborn he is reinforced with a special metal that substitutes as his spinal cord making his skeleton stronger and almost impervious to most attacks. Curling into a ball will sometimes paralyze him and make him vulnerable to direct attacks to the stomach. But he is brave enough to try to overcome this bothersome weakness.
Concept and Creation
Color
The reason why Sisco is red because of the fact that his original design was red. The color red also symbolizes the words "Passion", "Aggression", and "Courage" which Sisco's creator thought that describes his personality and character well.
Quills To Hair
Sisco's appearence changed dramaticly throughout the years. But the least noticeable were his quills. At first, Sisco had two bangs that sit on the sides of his shoulders and he was completely red with a Jerry Mouse hairstyle. He also had the same number of quills Sonic had. Then had 4 bangs that were merged together to make a rather rare hairstyle. Then after 2006, Sisco's hairstyle became permanent after agreeing to keep it that way but he loses his quill bangs on his shoulders. In late 2008, Sisco loses his quills and it was replaced with with his hair to make it look simular to quills. The number of the "fake quills" were down to two but it was four for the Sonic version.
Hedgewolf Tails
As said before the least unnoticeable was his quills but the most unnoticeable was his tail officially. In his regular design, he had a slightly longer tail then Sonic. But then was later changed into a Wolf/fox tail. With amusement and uniqueness, Sisco's tail was splitted into three parts but not seperately. It was two tuffs of fur hanging off of the sides of his tail. And sometimes, the feature is not seen in some artwork.
History
((Information from The Cosmic Turbine Wiki))
Sam The Unknown Soldier Era
A New Beginning
After Douglas thought about having a brother to take care of, it finally happened. The birth of Sisco Coollet. Of course, Samuel saw this in his vision but it was blurry but he knew his son was going to be like him. The story of Samuel The Unknown Soldier ends here.
The Wild Challenger Era
Early Life
It has been eight years since Sisco has been born. He was happy go lucky and quick to be loved by his family. He have been training with his father Samuel for a year. It was late that year when Sisco found Sam's secret training place and he fitted right in with his training session. Sisco of course asked if Douglas ever trained with him. It is Revealed that Doug indeed trained but he stopped when he turned twelve because he was more into machinery then he would fighting. Despite this, Douglas was never into Fighting like his father did since he has more of his mother's traits. Sisco who looks identical to Samuel was interested to follow his father's footsteps and make him proud.
A Certain Old Man Envades The House
This is where Sisco starts telling about how he gotten into the Emerald Forest in the first place. Douglas who was eighteen at that time made a picnic for his brother and him to spend time together since he is always in his study working on machinery. Sisco who was still eight at the time was worried for his parents since he's never been far from home like that unless all four of them went somewhere them he wouldn't worry but they don't go anywhere much. What he was thinking was very true as a smoke cloud appeared on the horizon making Sisco immediately run in fear that his family was in danger with Douglas following soon after. Samuel and Francis were cornered by a large round aircraft with a egg shaped man controling it. Sisco and Doug arrived too soon and started themselves into danger. Unknowing to Samuel that the old, egg shaped man was Dr. Ivo Robotnik also known as Eggman. He wanted the dark crystel that he needed to fuel his machines with he has heard about it from a certain someone who betrayed Samuel beforehand. Unknowing to Eggman that Francis was the one who had the crystal as a necklace. Sisco and Douglas could do nothing but watch as their father was getting beaten by the crazy scientist as he gets rammed with the eggmobile and slams into a wall of the house. Francis hid in fear of having to get in the way. Before having to finish him off, Eggman gets hit in the head twice with a rock thrown by Douglas. Sisco hid behind Douglas as Eggman's appearence frightened him a little as he was just scared at the time. At that point, Eggman started to come after Douglas and Sisco. This earned Douglas his scar on his shoulder which burned and bled rather badly as the lazer pierced his skin. Sisco tackled Douglas out of the way from the second attack almost getting him himself. Out of instinct, Samuel attacked Eggman as he jumped high in the air to bite into Eggman's moustache which was a bad move Since Eggman gave a good punch to Samuel's side where he was wounded at and the wolf fell from the flying vehicle. All three Coollets were in shock as Samuel has gotten shot by the sam lazer that shot at Douglas. Sisco without hesitation ran over to Samuel's fallen body as Samuel still had a little life left to see his son once more as he rubbed his hair as a sign of gratitude, then his hand fell lifelessly on the ground. Sisco felt very heartbroken, laying his arms on Samuel's lifeless body.. crying. "I will finsh what we started when a were training... I will be as strong as you when I grow up.. I promise.." Francis and Douglas were depressed by this as there was no hope left to get rid of this crazy man. Thats when Sisco had a change of heart, his sorrow then turned into fury when Eggman has threatened him to hand over the crystal of he was going to end up like his father. The small pup then declined with a cold glare and told the mad scientist that he will never get the crytal, not without a fight. Out of all his strength, he jumped high in the air almost as high as how Samuel was doing. This surprised Douglas greatly as he would've never expected Sisco to jump so high in the air. As Sisco jumped, he smashed into Eggman's vehicle making the aircraft crash into the ground and making himself pass out and bleed from the head from having to knock the doctor out of commission. He did sucessfully knock the doctor out though from the impact on the ground. Francis got out from her hiding place which was the bushes and ran over to Douglas to comfort him as he was still upset about his father's untimely death. After a moment, Douglas went into the slightly damaged house to get the first aid kit that was in the master bedroom. Francis stayed with Sisco to comfort him if he wakes up. "You're going to become just like your father.." While she was distracted by the bleeding wound on Sisco's head, Eggman who suddenly woke up grabbed Francis and flew off with her, with Sisco laying there Hopelessly watching his mother being kidnapped by a madman but his vision was blurry so he couldn't really tell much of what happened. The battle seemed to have ended and Eggman had the last laugh... for now..
The Befriending Of A Stranger
After that battle that was cheated out the Coollet's win, Sisco has gone missing from his home and was carried to a small hut that seemed to have been there for a year or two. The mysterious kidnapper wasn't bad at all, he buried Samuel's corpse into the ground and left to heal Sisco for he was injured. When Sisco woke up he did not reconize the place or the person that was in it. Sisco tried to protect himself only for a vivid response of ' Wait, I'm here to help you!" for It turns out that the mysterious stranger was none other then Inferno Flare, a name that was dubbed to hide his idenitity known as Jerry Thomas. He and Sisco talked for a while but Sisco who was timid of the hedgehog did not say much to him but only asked the nessessary questions and answers thrown at him. Afterwards one simple question was enough for Sisco to remember what happened before and he tried to get home as fast as he can leaving Inferno by himself. apparently it was fine by him as he only wanted Sisco to be well again.
Introduction to Reika Roosevelt
What seemed like longing hours was only a few minutes since Sisco left the hut he was getting tired but that did not stop him from trying to find his home. What he didn't know was that there was a girl up ahead as he was distracted by the Emerald Forest's whereabouts downhill and then they both crashed into each other. Sisco apologized and the girl did the same but they did not complete their sentence since they were both gazing in each other's eyes. The girl was Reika who was the same age as Sisco. Sisco suddenly had feelings for her having never met her before. Embarresed by the whole situation, Sisco ran away from her, blushing, and not looking where he was going either because a small rock made him trip and fall into the forest below. Reika was devastated by this, she knew that the Emerald Forest was a bad place for those who never been there before so she left for home where she was going to in the first place worried about Sisco while she did. The slope was very deep as Sisco was rolling and tumbling for a good few minutes only to land on a rock on the head luckly for him, he had a large mane for such a eight year old (The many few advantages of a hybrid). He stirred only to find that he was lost and does not know where to go now. He was not even sure how he got down there for it was merely a blur to him.
Akame The Curious One
It's been almost two weeks since Sisco has lost in the forest, he hardly had any shelter, water and no food for the past week as he did not learn much about being in the out doors by his father. Suddenly, something tried to poke it's head out from a bush near him and he didn't notice until it gotten louder over the burning fire he made during the night. It was a small Maned Wolf who lost his way but he looked like he wanted to make friends with Sisco quicker then expected. the maned wolf was Akame Prowle who gave out a friendly hi to Sisco who said hey but it was depressed like. The small pup ran over to the stump Sisco was sitting on to be comfortable while he still can before leaving again but somehow, he trusts Sisco not knowing him at all but he was a youngster just like him only two years apart. Sisco didn't like the company at first but he gotten used to it very fast since he was feeling lonely for these two weeks. His growling stomach was a sign that Akame wanted to help him out and be with him more asking questions that Sisco already knew the answer to. Akame then told him his name and everything that happened before Sisco came here. The small pup asked Sisco if he could guide Sisco back to his home. Sisco had thought about it but he said yes because he knew that Akame was too small to be in a place like the Emerald Forest. Sisco asked Akame many things about what happend to him and why did it have to be like it. Akame humbly answered them rather straight forward and such. But Sisco's hunger made them stop a few minutes afterwards. Akame panicked but he then ran to the Emerald River to find something for his new found friend. He eventually did and he fed it to him but Sisco refused as Akame catched it himself so he should eat it himself but Akame didn't want his friend to starve. Sisco's eyes widen by this action, he had never seen such kindness before from someone else that he had never met before. He took the fish and ate it and regained his strength back a little but it was enought to press on to the village called Terrijill.
Finding His Way To The Village
It took hours to find the Terrijill village and Sisco and Akame was getting tired but Sisco was kind enough to make the small maned wolf get on his back the rest of the way there. But suddenly, something from behind came charging at them at full speed. Sisco immediatly jumped out of the way, making Akame fly over to the other side. Akame called it out as a Bor. Sisco had never seen a bor before not even an actual wild pig for once but now he will after this. The red eyed demon charged at Sisco once again and Sisco was about to dodge until Akame bit into one of the demon's eyes making it squeal in pain btu it's large tusks from having to shake side by side threw Akame off and got himself stabbed by the Bor's tusks in the stomach causing him to land hard on a tree. This did not only scare Sisco but infuriate him as well, while the Bor was recovering, Sisco charged at it and bit into the demon's neck, lifted it even though it was ten times bigger then him, and slammed it hard to a hard sturdy tree making it's skull crack in the process. It remained motionless after that. Sisco had never knew that he had that strength to begin with but he did not think about it for too long, Akame was injured and his whining caught Sisco's ear. Akame told Sisco about the healing herbs that his father gives him whenever he's hurt or sick they clear him right on up and they are in the paticular spot where they are standing that there was bush of herbs nearby "What a coincidence.." Sisco thought. He gotten the herbs but thought of something extra, vines that were hanging in every direction were useful for this kind of matter. Sisco carefully place the herbs on the bleeding wound on Akame but the pup decieded to yall in pain and basically tear up by the mere pain that was on his torso. Sisco did not want Akame to be hurt like this again so he told him that and the pup agreed promptly. After that small but dangerous battle, they went on to the village where all the Maned Wolves, old and young were there, troubled about something. The guards in the opening could not let Sisco in but after they saw Akame with him they were surprised that Akame came back, alive even but they still did not let Sisco in anyways but an old member of the village who was the leader of the maned wolves, told the guards to let them through. The guards were reluctant but they finally let them pass. The elder, Rocktail asked Akame why is he back empty-handed. This made Akame nervous knowing that he was suppose to bring food back anyway but as he was stuttering to answer, Sisco answered for him. The old maned wolf stared at Sisco rather sternly but he noticed the unique stripe markings on his body so he walked around him for a bit making Sisco and Akame confused in the matter. Afterwards, Rocktail told Sisco about the ancient monsters they know as Raiken Shi Nos which are the Lycans of Death in english. Sisco was startled by this upcoming but the elder pressed on telling him to not stare at the moon at night and how the user gets nightmares of this beast when they are sleeping, which is strangely interesting since Sisco has these dreams already when he was back home but sometimes the monster isn't there to haunt him. Sisco then asked the elder about Akame. But it is revealed that if the young do not adapt to the wild and not learn to catch food for his or her family if not worthy of being in this tribe which caused Akame to go into excile. Both Sisco and Akame were shocked at this even though Akame knew about the rule but he thought the elder was going to let him have another chance. Sisco who was angered by this told Rocktail that Akame is too young to even be out in the forest and he needed his family to help him. The elder told him that his parents should've taught him how to fish and survive in the wild knowing that this day would come. Kiba and Kimehime were shocked by this as they did teach Akame how to fish but he had never had the experience before. Sisco told the elder that Akame catched a fish but it was for him so that he could escort Akame come back to the village and saying that it was a "Waste of time." and "It is downright sickening for someone like you to let someone so young go out there on their own knowing that they might not have what it takes to go out there." These words did not pierce the old wolf's heart or train of thought but it did to the other maned wolves, Akame's parents, and Akame himself who was really greatful to Sisco protecting his reason for being here. Rocktail did nothing but told the guards to take Sisco and Akame out of of the village by force. Akame ran out of the village and stared at his parents before he ran off with tears running. Sisco fought back the guards and for a moment, Akame's father, Kiba told Sisco to watch over his son for him and told him that they are sorry that you have to go through this. Sisco did not say anything but had a concerned look on his face as he stood there. The guards rebounded and Sisco tried to fight back again but one of the guards conked Sisco in the back of the head with a rock and threw him out of the village and into the entrace with the elder... watching... staring and not saying a word as he turned his back on the two young pups and going back into his home.
Sisco's Promise
Sisco rebounded slowly but surely, he was very angry. He stared at the village with a distasteful look on his face. he wanted to go back in there and teach the elder a lesson but then he thought about it, that promise that Akame's father, Kiba told him, and for the fact that Akame would never forgive Sisco for this action if he decides to hurt the village leader. Sisco sighed and went to find Akame who ran away from his once was home. I didn't take long until he found Akame. He was crying behind a tree rather quietly but it was enough for Sisco to hear him. "You know, you can get heard by certain people if you don't stop crying" Sisco said with an amused look on his face. Akame was happy to see him and he wiped the tears away but they just kept coming and he suddenly leaped at Sisco with a comforting hug. Sisco knew that Akame was now his responsibility and he had to watch over him until Akame was old enough to take care of himself. Both were exhausted and hungry from their pointless trip but it wasn't completely pointless as Sisco knew that his parents would worry about their son. Akame who fell fast asleep on Sisco's back whined a little telling the tired lycanhog that he was hungry still. This slightly annoyed Sisco but he knew how he felt, but Sisco still couldn't stand the fact that the elder did not let Akame comeback to the village or at least let him see his parents one last time. Some where even laughing at Akame which were the children who use to have bullied Akame for being to small and weak. Sisco tried to shake it off but the feeling was still there, he felt bad for Akame, he had a worser case then he ever had. Few hours past and so was the sky's mood. It started to feel gloomy. Sisco hurried to shelter and found a cave to rest in. Akame woke up and saw that he was in a cave that smelled of a even more dangerous animal then the Bor but it was abandoned. Akame then asked Sisco for his name which occured to him before hand. Sisco gave his name and asked him was he alright. The pup didn't say anything but nodded. "Don't worry.. I'll be here for you.. your father told me to watch over you so you don't have to worry about being alone anymore." Sisco said confidently but his voice was calm. Akame was both surprised and happy to know that his parents still cared for him even though nobosy else didn't. After that, the both of them fell to sleep, letting the rain fill their ears with such calming sound. Thoughts ran through Sisco's head as he thought about Akame having to train with him afterwards as he needs to get better at what he needs to learn later in life. It might even help him. Sisco knows that Akame will be greater in the future despite that Akame might even annoy him in the future too but he was okay with it.
The Training Session Starts
N/A
The Transformation
Four to five weeks have past ever since he was stuck in the eastern part of the forest. One night, Sisco and Amble were tired from having to train too hard so they slept on the grass near the 'HQ'. Sisco who couldn't sleep all that much tossed and turned as he layed on his back, his tail flickered as the moonlight was shining in his eyes stared at the moon. This caused him to feel hot, like something was going to burst out inside of him but then at that time, his eyes became completely orange. The feeling unsettled him, feeling that something bad was going to happen so he told Akame to run. After several attempts, the maned wolf ran but watched in horror by a nearby tree where Sisco couldn't see him. And then it happened, the transformation of the Raiken Shi No. The monster roared into the night and wasn't satisfied at the slightest. Amble was the first to be spotted. The pup ran as fast as he could and luckly dodged the monster's claws when his foot gave out on him from running too fast. Amble was cornered by the beast until Buzz came out of nowhere and kicked Raiken Shi No right in the face, it didn't seemed to have hurt the monster one bit. Raiken Shi No then attacked Buzz and ignored Amble as if he wasn't worth it anymore. Just as Buzz was distracting the monster, he tripped and was now cornered next to a tree. Beyond this point, Buzz knew he wasn't goning to live any longer, his screwing up ment the end of him. Suddenly, Sisco's conscious appeared to have stopped Raiken Shi No from killing Buzz. Buzz then ran over to where Amble was hiding letting the enormous lycan roar and yell in pain and it almost seemed like it growled "I... Don't... want.. to be CAGED AGAIN!!!" Then it finally collaped and in a blink of an eye, Sisco went back to normal from a large brute, to the fatigue small wolf cub once more. His entire body was very sore when he changed back. Amble and Buzz were nervous but they were not sure what was the cause of Sisco's transformation. Sisco himself regained consciousness and slowly got up. His eyes then became less feral and returned to its normal state. He stared at Amble and Buzz with a strange expression and they both looked back at him with scared eyes. At that moment, Sisco ran away once again, this time because he feared that he was now a danger to his best friend.
Troublesome Monkeys
N/A
The Ancient Tiger
The next day, Sisco was still trying to find his way back to the Emerald River. Suddenly, a Striker appeared and attacked Sisco. But due to the fact that something was watching the two fight and Sisco wounded the feline enough, it ran away in fear. There were eyes in the trees, glowing, piercing straight into Sisco's heart, that is how scary it was. He was startled by this upcoming and then the eyes disappeared in silence and the entire area was silent. Sisco did not know what to do at this point, he felt frightened the moment he saw the eyes. Then, a image few past him at a blink of an eye but it seemed large enough to be seen for a split second. The second time, the image hit Sisco in the face and he fell soon after but got back up. Sisco just sat there trying to find out where the image is coming from and then a deep chuckle came from inside the trees. It creeped Sisco out to the point where he had to escape it, but he couldn't, the image closed him in next to a giant tree. Then afterwards, a large feline walked slowly at Sisco with it's eyes wide open looking like it was going to pounce at him any minute now. But didn't and went into a normal position staring at Sisco very creepily. "I see, you are a stubborn little runt aren't you?" Sisco didn't say anything but stared at the mighty cat with a perplexed expression on his face. The tiger stared back but had a very blank look on his face. This however made Sisco look away and look in different directions and started to look back at him. The tiger was merely testing him seeing how Sisco would react to his cold, blank stare. "What do you want with me?.." Sisco said suddenly but he didn't want to say it but he had to know. It comes to find out that the tiger was going to eat him. But then he saw the markings on his body which made him change his mind at the moment. Sisco reminded the tiger of his grandfather Oliver. Sisco also had a little silver tinge which glittered amber red which also reminded him of Oliver's son Samuel who is out of the house most of the time. He decided to test Sisco's level of skill in combat so he walked back some and let Sisco get ready at least and then the tiger attacked the child mercilessly. Sisco was left with a few scars and bruises but he wouldn't give up the fight. They fought for a long time. The tiger admired the fact that Sisco had his father and grandfather's burning passion of fighting and also the willpower to not give up even when he is at his weakest. The old tiger then stopped fighting as he only wanted to test Sisco's fighting strength as it reveals that he was watching Sisco smash the bor's head into the sturdy tree that still had the dead corpse laying there to decay as he was not ready to eat the meat from animals yet. Sisco who was stubborn as always tried to still fight although his stomach was empty and his body was tired he suddenly passed out afterwards from exhaustion and hunger throughout the day really toned him down and worn him out to the point that he would pass out like that. The fight basically made that theory worse. Althought it didn't seem like it but the tiger picked Sisco up and gave the tired pup a break out of the kindness of his cold heart. It seems that he is going to help Sisco train but only certain times will he do it, not only does he not want to spoil the pup but he wants him to learn on his own to do certain things on his own which shouldn't be a problem for someone like Sisco.
When Sisco woke up, he sees the tiger up in the trees and he jumps and growls at the tiger with his fur bristling. The Tiger did not react to his threatening pose but insted after a moment he told Sisco his name. His name was O'Mandosan (Oh-man-do-sawn) which is loosely based off of how you would say Old Man in Japanese which is ojiisan. Sisco perked his ears up as it could tell that he was both listening and confused but his expression was innocent and child-like despite that he was still eight at the time. "Why are you helping me?.." Sisco asked suspiciously but his voice was calm. The old tiger stared at him not with the usual creepy stare but with a strange but calm stare even though it was a different stare it still creeped Sisco out regardless he only showed that it creeped him out with a quick twitch of his long, soft ears. Thats when his stomach chose to clench tightly reminding him that he hasn't eaten all day ever since he saw those monkeys as he firmly grasped his stomach to make it stop growling so loud. O'Mandosan then fell from the tree and looked for the bor that he had hunted before he saw Sisco since he already had his fill beforehand and he wanted the hungry pup to eat the remains. Sisco refused as he didn't like the smell that was coming from it. The tiger then went back up into the trees to watch him and see what happens. Sisco did nothing but stare at the carcass, he had a strange feeling that he might get sick from just eating it. But as he was thinking about that it was too late, his stomach took over and he ripped into the bor's flesh but he ate too much and gotten a stomach ache. It was that when O'Mandosan was surprised at how quickly he had eaten all he could stomach but he forgot to tell Sisco about eating too much of the bor's meat. Despite the dull pain that was throbbing in his gut, Sisco was finally satisfied when he ate it but he didn't realize that he was ripping into the meat, it all seemed blurry to him. Afterwards, O'Mandosan told Sisco about the offer to train him to become better at fighting. Sisco immediately agreed to the offer. Sisco was one step closer into forfilling that promise to his father.
Five Years Later
N/A
The Bosses Of The Emerald Forest
N/A
Boss: Geminai
N/A
Boss: Bozo
N/A
A New Strange Feeling
N/A
O'Mansosan in Danger
N/A
Akame's Sudden Intrution
N/A
Boss: Rug
N/A
Reunion
N/A
Kidnapped
N/A
Introduction to Sonic The Hedgehog
N/A
Sonic & Sisco To The Rescue
N/A
Final Battle
N/A
The Cosmic Turbine Era
A New Start
N/A
Riku's Plans for Domination
N/A
Bionic the Sonic Clone
N/A
V.s. Roykuno
N/A
A Secret Admirer
N/A
Intoduction to Dulcian Ravage
N/A
Sisco's Vision To Dulcian
N/A
A Few Weeks Later
N/A
Crisco and Scourge
N/A
Sisco V.s. Crisco
N/A
Sisco Finds Out About His True Nature
N/A
Sisco V.s. Ru
N/A
Sisco's Frustration
N/A
The Plan to Invade The Tasmanian Gunship
N/A
The Battle Of The Freedom Fighters
N/A
Sisco's Rage
N/A
Professor Guru
N/A
Sisco's Inner Rage
N/A
Sisco and Reika Reunite
N/A
Sisco: World Of Danger Era
Eggman's Last Stand
N/A
Temporary Peace and The Birth Of Mickey Coollet
N/A
Sisco's Sorrow
N/A
New Problems
N/A
Mickey's Lost
N/A
Sonic At The Verge of Death
N/A
Riku Appears Once Again
N/A
Ru and Neoxus v.s Sisco
N/A
Samuel's 'Return To The Living
N/A
Sisco's Powers Taken Away
N/A
Samuel saves Sisco
N/A
Mickey Appeals To His Father
N/A
Sisco's Stroll Around The Forest
N/A
Mickey Taken!
N/A
Sisco's Change Of Heart
N/A
The Final Battle Of The Ages
N/A
A New Hope
N/A
Bio
N/A
Trivia
N/A
Community content is available under
CC-BY-SA
unless otherwise noted.